WOW. Re-entry after a vacation is hard. But re-entry after time in Hawaii is darn near impossible. And if you had a GREAT time on your Hawaiian vacation, forget about re-entry altogether.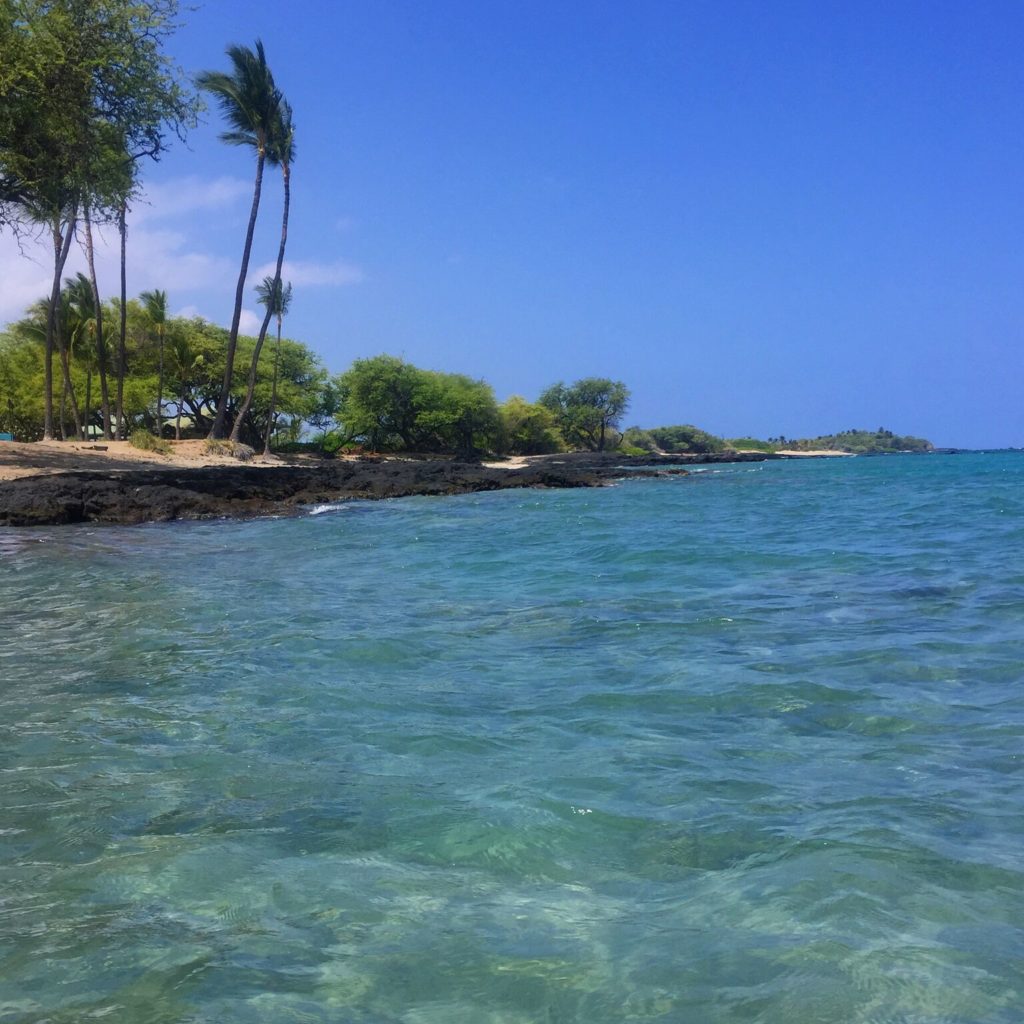 We are fortunate to live in California where traveling to Hawaii is as simple as a non-stop five hour flight and BOOM you are in paradise. Over the years we have traveled to Maui three times, Kauai once and Oahu once. A few months ago when we were trying to figure out a vacation for two of us, we discovered that we had forgotten about Hawaii! Otherwise known as the Big Island…or the place where Ironman Kona is raced. Or the place with the giant volcano. You get the picture. We got a great deal on tickets and even surprised Sam's mom by bringing her along on her very first trip to Hawaii (she is 84 and has always wanted to visit). We decided it would be a new adventure for the three of us and off we went.
We chose to stay at the Waikoloa Beach Marriott Resort and Spa in Waikoloa. The hotel was standard Marriott fare and a bit more intimate than I was expecting. The location RIGHT on A'bay was unbeatable. As long as I have a comfortable bed and a great location I am always good to go. This hotel provided both in addition to excellent service. This was also my favorite hotel pool of all time. The water temperature was perfection and the cool drinks delivered to us poolside made our swimming experiences memorable. The grounds of the hotel were also beautiful and very well maintained.
We had dinner our first night at Lava Lava Club, a short walk down the beach from our hotel. I had a blue cheese stuffed hamburger next to a spectacular sunset on the beach. It doesn't get much better than that.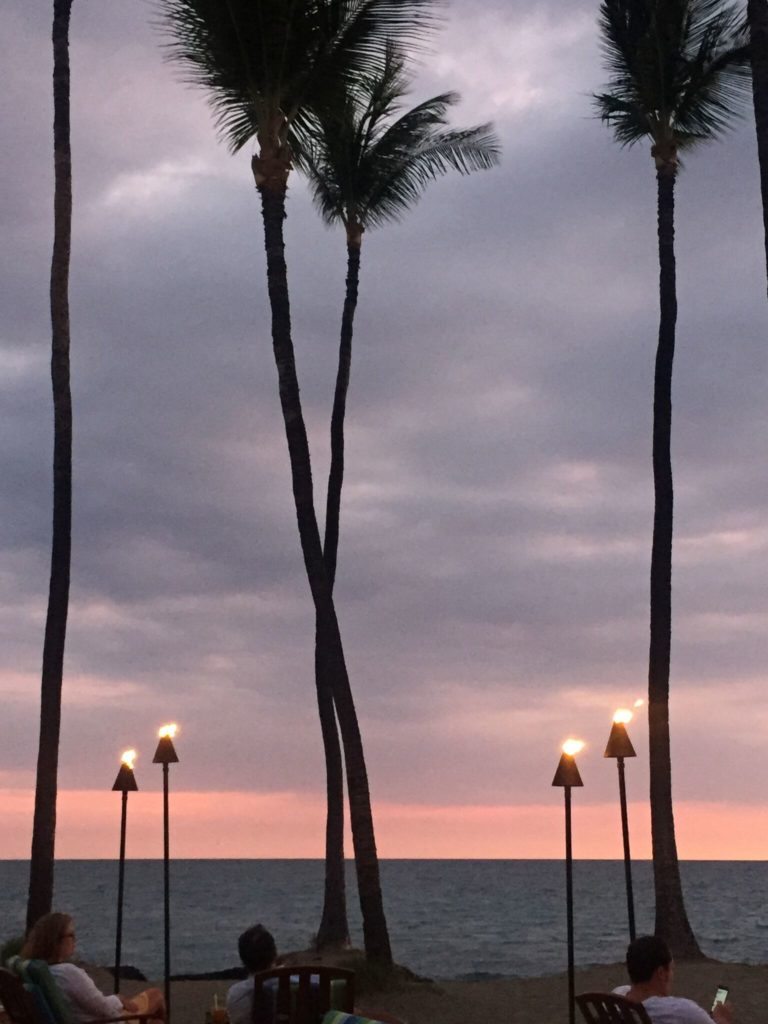 Day two  gave us a leisurely morning on our beach and in the hotel pool. Sam snorkeled while I explored the beach as far as I could walk without shoes. The pool water was the exact same temperature as the air; divine. I floated around with a pina colada in my hand and felt that I could solve all of world's problems right there in the pool. Lunch at the hotel was a giant pupu platter of mahi tempura, Kailua pork quesadillas and sweet BBQ chicken wings. Another high point worth mentioning: food at the Marriott was fantastic. We ate at the restaurant numerous times during our stay and everything was always delicious.
Later in the day we ran around the town on Kailua Kona. It was humid with occasional sprinkles, so we sat in 2nd story bar overlooking the street below and sipped on cool drinks.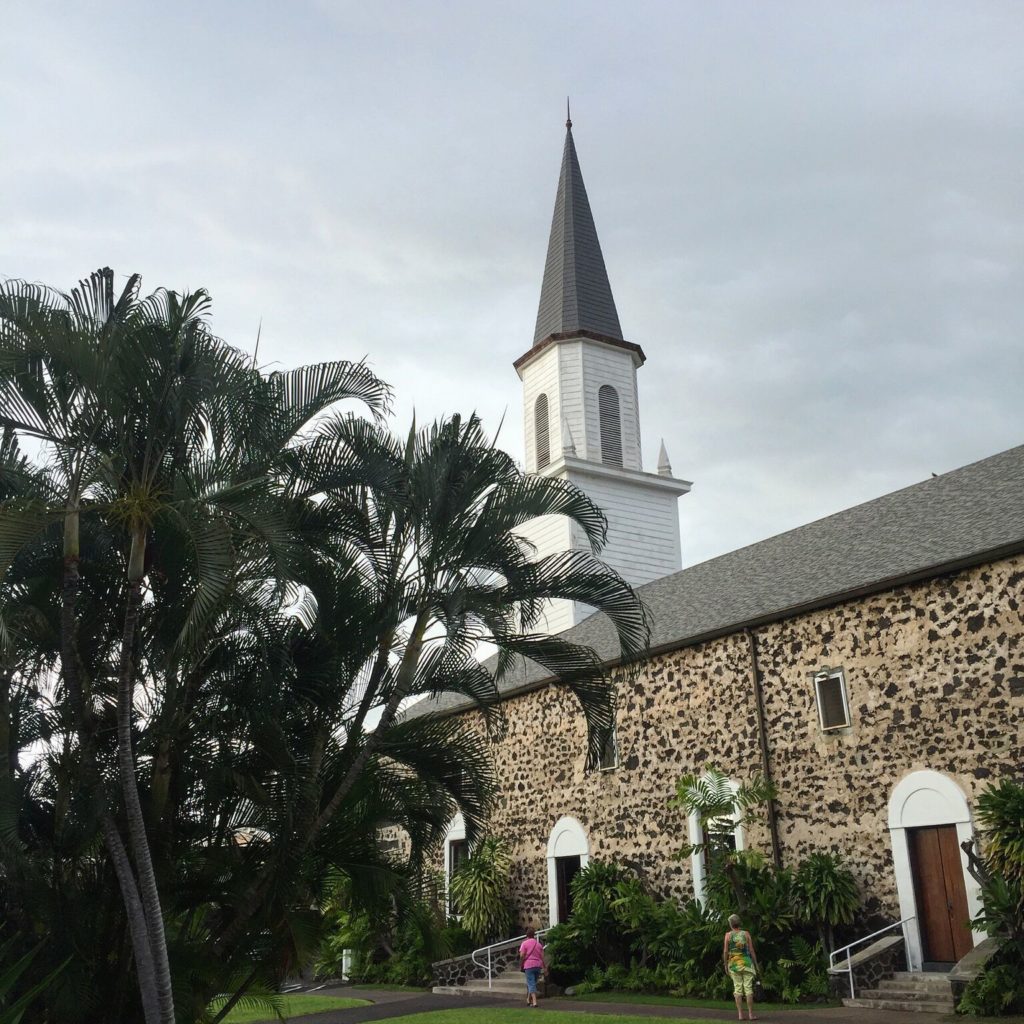 We traveled inland from Kailua Kona to the little town of Holualoa for dinner at the famous Holuakoa Cafe. Known for its high-end farm to table delicacies, Holuakoa won us over as a little oasis of light and charm. The restaurant is a bit out-of-the-way and parking is tricky but it is worth the trip.
I ate a perfect meal of seared Ono with lemon butter, saffron quinoa and slow roasted veggies while sitting in a garden under twinkling lights. It was a delicious evening.
The following day we decided to drive out to Honakaa. Being on the Kona side of the island we were missing the lushness we were accustomed to in Maui and Kauai. The scenery in Kona is volcanic rock and after awhile, it loses its appeal. As we traversed across the island through Waimea we started to see the landscape change and lushness return. Honakaa was small, old and perfectly charming. It was the kind of town that immediately felt like home. Walking down the main street I saw a skirt in the window and bought it immediately. I think it was only $18 so as far as impulse buys go, this one didn't break the bank. We had lunch at Gramma's Kitchen were Sam's mom and I ate a huge plate of blueberry pancakes and bacon. Sam attempted to take down the Loco Moco, a plate of grilled hamburger over rice with gravy and eggs over easy. We basically rolled out of the restaurant.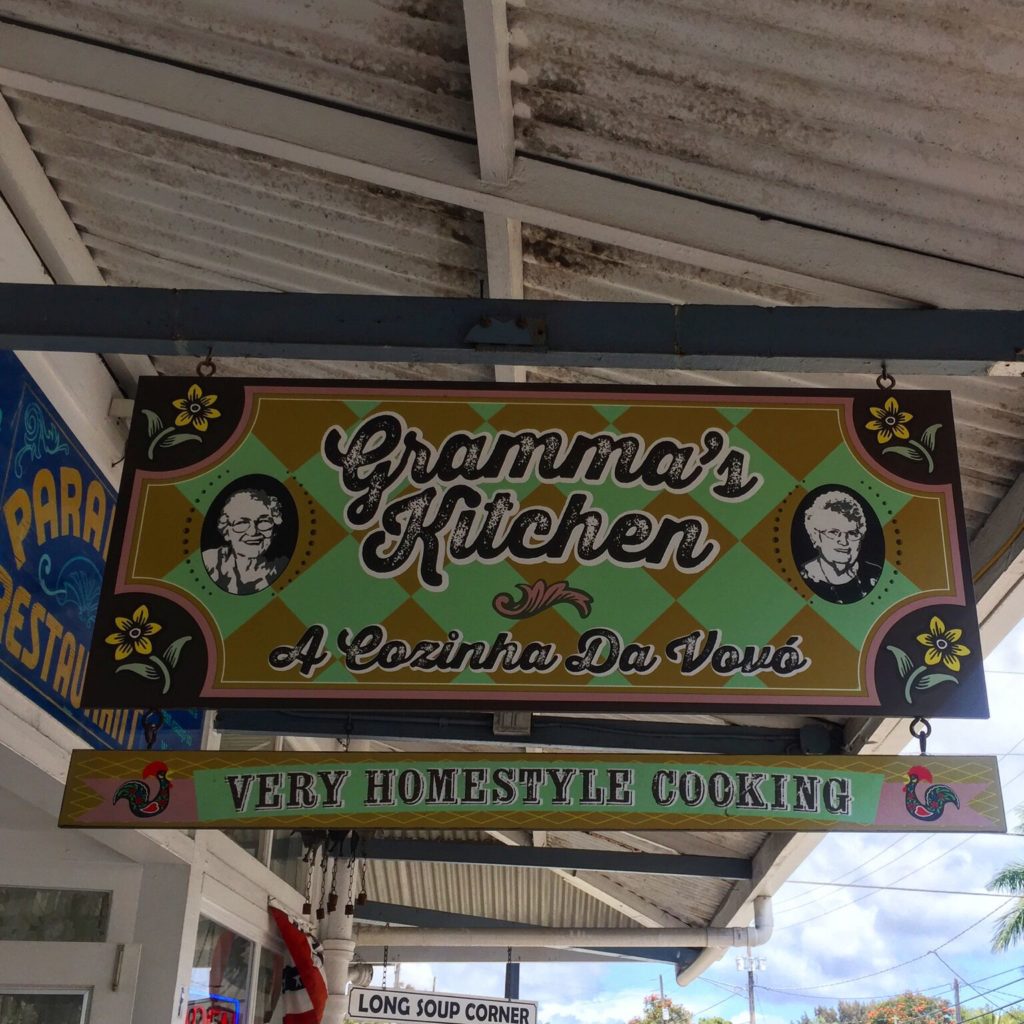 Driving back through Waimea we literally skidded the car off the road when we saw the Malasadas food truck. Malasadas are a portuguese-style doughnut. This donut/piece-of-heaven is served warm, plain or filled, and dusted with sugar and cinnamon crystals. We ordered ours with coconut cream filling and devoured them immediately. It was as though we forgot completely about the giant meal we had just eaten… Malasaaaaaaaaddddddaaaassssss. SO freakishly good.
In the late afternoon Sam headed out for a manta ray night dive with Jack's Dive Locker. It had been several years since he had gone on a dive and this was his first night dive so he was excited and I was worried. Lorna and I spent the evening in the pool and again, eating entirely too large of a dinner while we waited to hear if Sam survived. He did :).
Day four in Hawaii was our Volcano National Park day. Driving across the island  on Saddle Road we hit heavy mist and then rain. There were black lava fields as far as the eye could see and at 6700 feet of elevation, it was cold and windy. I asked Sam to pull over while I jumped out of the car and ran across the lava fields. It was really cold but worth it to run across that crazy terrain.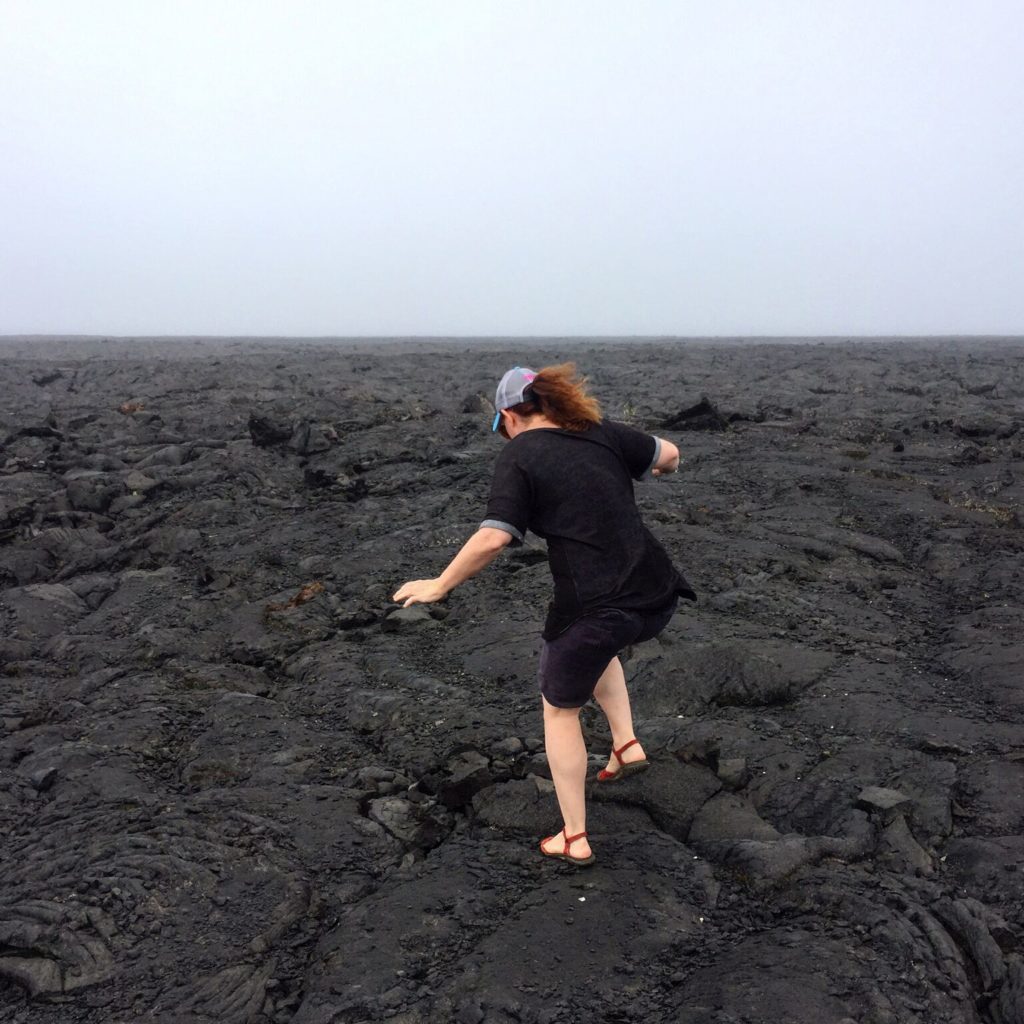 We eventually made our way to the visitor center and Jagger Museum Outlook to witness plumes of smoke from the volcano caldera. Even with a hoodie and hat it was cold. Being from California we are a bit rain starved at the moment so the rain did not deter us but the cold was unexpected. We loved being that close to the caldera. Honestly, we both wanted to jump down and run straight for the smoke plumes but being semi-responsible people we didn't. Also, it is illegal :).
A bit further down the road we visited the lava steam vents which felt SO good in the drizzly cold. After warming up we headed to the Thurston Lava Tubes. This was a gentle hike through the rainforest (which reminded us of our time in Hana on Maui) where it was lush and rainy. We descended into a massive lava tube that was dimly lit for a walk through then back up the hill again. I felt like a character on "Lost" walking through the tube!
After awhile we headed out of the park towards Hilo where we spent about an hour. Hilo is a great little town right on the water. We visited a farmers market (I had been on the hunt for banana bread), picked up some gifts for our friends and kids and found trucker hats for both of us at a great running store. We needed to head back towards Honakaa to get home to the Kona side so we stopped at a little cafe for dinner. This was our second time in Honakaa and it really felt like home. We visited with the owners of the cafe for quite a while and felt like locals. Anytime you can travel and feel like a local is such a gift. We finished the day with a nighttime swim in the pool and hit the hay.
On our last full day in Hawaii we headed out early in the morning for the little town of Hawi so that we could go to church. The congregation welcomed us so warmly and passed out lei's to all of the visitors. Then they sang a traditional Hawaiian song to us that made me tear up; it was such a special morning.
Hawi was my favorite town on the Big Island. It was equal parts charming, artsy and warm. Also, we discovered the best ice cream we have ever had in our ENTIRE LIVES in Hawi at a place called Tropical Dreams. I had the Kona Coffee ice cream and now I can never have that flavor again unless it is from Tropical Dreams! How sad to know that my favorite ice cream in all the world is on an island thousands of miles away. Right? Super sad.
The Pololu Valley is located just past Hawi and is striking. It reminded us of our time in Kauai with the dramatic vistas and lush green. Hawi captured my heart in a big way and the next time we go back to the Big Island I will make sure this place is one of my first stops.
We finished up our time in Hawaii with our biggest excursion of all: a trip to nearly 14,000 feet elevation at the top of Mauna Kea with Hawaii Forest and Trail. Mauna Kea is a dormant volcano. According to Wikipedia, "its peak is the highest point in the state of Hawaii. Much of the mountain is under water; when measured from its oceanic base, Mauna Kea is over 10,000 m (33,000 ft) tall, making it the world's tallest mountain from base to summit, beating out even Mount Everest. Mauna Kea is about a million years old, and has thus passed the most active shield stage of life hundreds of thousands of years ago". I can't say enough good things about the tour company we worked with. We were picked up around 3:30 PM by Hawaii Forest and Trail in a special off-road motorcoach and driven to the historic Historic Humuula Sheep Station, located at 7,000 feet elevation for a picnic dinner. We spent about an hour at this location not only to eat but to begin acclimating to the elevation. It was cool and misty. The food was delicious and our group (there were about 12 of us) was excited about the trip to the summit. After dinner we continued up the mountain until we hit about 10,000 feet. We got out and took pictures and looked above us at what was to come.
At this stage we were above the clouds but still had nearly 4,000 feet to climb. From this point on the road up the mountain was very bumpy. This is part of the reason why you want to be with a reputable tour operator like Hawaii Forest and Trail. You would not want to attempt this journey in your own vehicle. Our guide was passionate about Mauna Kea and was a wealth of information; we peppered him with questions all night.
Finally we reached the summit. Our guide told us that we should be careful not to exert ourselves too much owing to the elevation and to just take it easy. As soon as I got out of the bus and walked around I was hit with this crazy feeling of euphoria. I had this strong desire to just RUN around the top and see EVERYTHING. Then my head started to hurt a little and BOOM, I realized I was experiencing some of the effects of high altitude! I refrained from running and instead took about one million photos.
It was really cold (about 38 degrees the night we were there) but luckily our guide had provided all of us with parkas and gloves (I had made sure to pack my down coat and I am so glad that I did). We sat perched above the clouds and everything below for about an hour and watched the sunset. It was nothing short of magical. Mauna Kea had never been on my bucketlist but I added it after this trip with a big check mark next to it :).
I have always been a geek about astronomy (I credit my Grandpa Rill with instilling a love of the cosmos in me) and being up at the top surrounded by a global community of observatories was absolutely mind blowing. What a world we live in. I think if everyone was able to come to the summit and see what I saw, their perspectives would shift.
We finished the night with star gazing at 8,000 feet elevation with a giant telescope and an astronomy lesson. We were able to see the actual bands of color on Jupiter (?!?!?!?!), the ring on Saturn and craters on the moon. Sam and I were literally freaking out we were so excited. In addition we ate dark chocolate brownies and drank hot chocolate while watching the stars so we were in heaven. We were REALLY impressed with Hawaii Forest and Trail as a tour operator. They put on a fantastic tour/show and exceeded all of our expectations. If you are ever able to do a Mauna Kea tour, please book it with them! You won't be sorry :).
The Big Island has now become my favorite of all the Hawaiian islands. I did not think it could beat out Maui but Hawaii has won me over. There is so much more I want to see and do on the Big Island so I am already planning a return trip. If you plan on coming in the future, save your pennies for the Mauna Kea tour. It is pricey but we felt like we got our moneys worth and MORE.
Thank you Hawaii for being spectacular in every way. Mahalo!