A quick roundup of some stunning seating catching my eye lately…
This settee is from my all time favorite store ABC Carpet and Home. It looks like a work of art.
I discovered this beauty through an Etsy store that I particularly like.
I find that I am consistently drawn to furniture that is wildly colored or patterned. Neutrals do not speak to me; color and texture does. Again, this sofa is a work of art.
This is another Etsy treasure. I love everything about it, though it doesn't look particularly cushy.
This has got to be comfortable. The "upholstery" of these chairs and ottomans are made of silk yarn balls from Nepal and filled with a sponge. Fascinating, right? I could see this in a playroom or teen bedroom.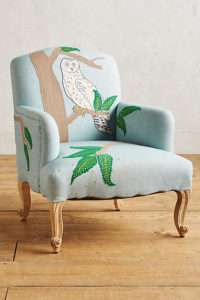 And finally, there is the Treescape Dorrance chair from Anthropologie. My friend just bought this for her living room and I love the way it completes her space.